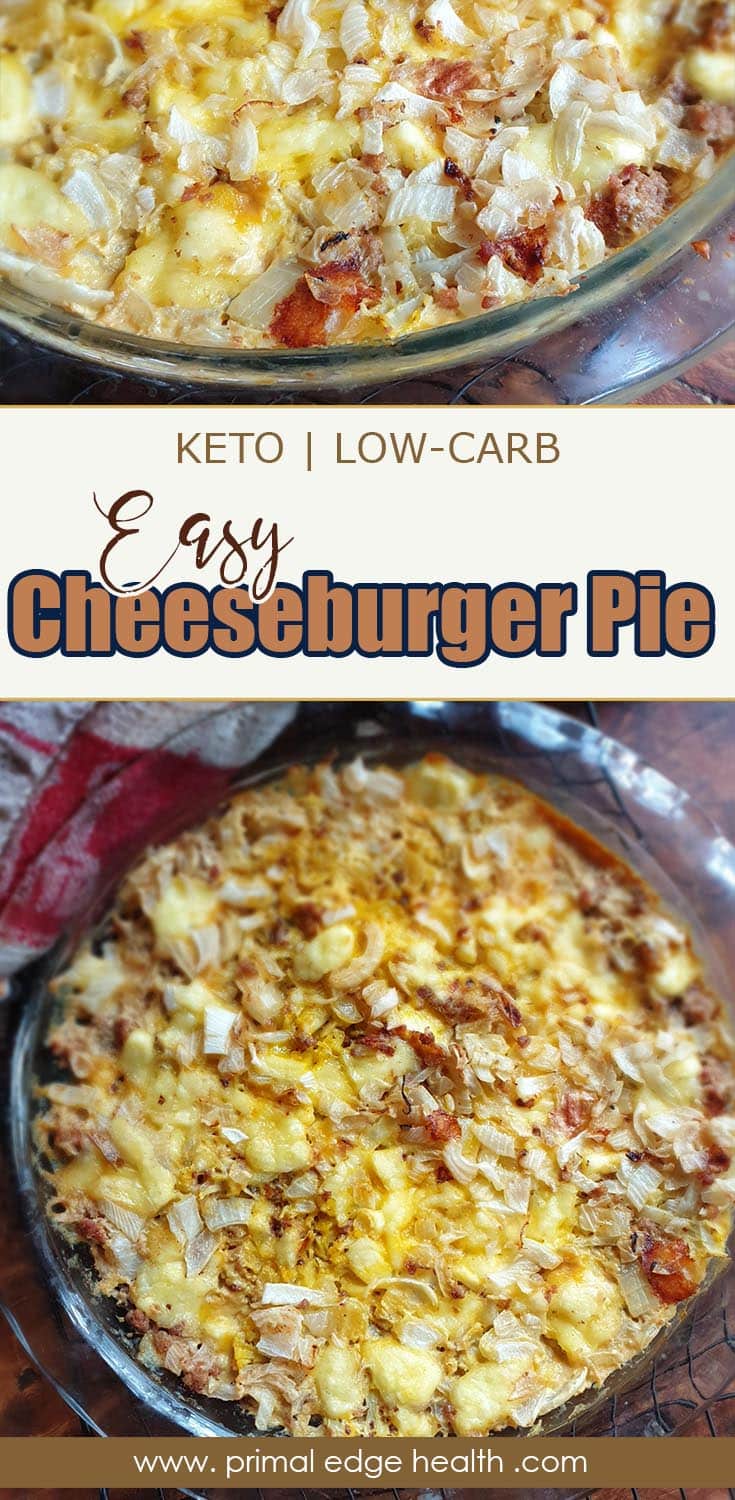 This easy cheeseburger pie is perfect for a low-stress dinner any day of the week! Flavored with simple everyday ingredients, it is sure to be a new family favorite. Plus, you probably already have these budget-friendly ingredients on hand in your fridge right now.
Prep Time: 10 minutes
Cook Time: 20 minutes
Total Time: 30 minutes
Servings: 6
Ingredients
1.5 pounds ground beef
1 tablespoon tallow, or cooking fat of choice, separated
1 medium onion diced
4 whole eggs
½ teaspoon garlic powder
½ teaspoon ground mustard
½ teaspoon salt
½ teaspoon ground black pepper
1 cup shredded cheese
Instructions
Preheat the oven to 350°F (175°C) and grease a 9-inch round pie plate or 8×8-inch baking dish.
Lightly brown the meat in cooking fat over medium-high heat in a heavy-bottomed skillet or cast iron. Transfer to pie plate once cooked.
Add a little more fat to the skillet and brown the onions until translucent, about 5-7 minutes. Stir frequently.
While the onions cook, whisk the eggs. Add herbs, salt and pepper.
Pour over the beef so it sinks into the meat. Shake the dish gently if needed.
Arrange the onions in an even layer over the eggs and meat.
Top the whole pie with cheese.
Bake for 20 minutes, until cheese is melted and bubbly.
Allow the cheeseburger pie to rest for 5 minutes before slicing.
Notes
To make a complete hamburger themed meal, serve on a bed of lettuce with a side of pickles or Pickle Relish and thick slices of fresh tomatoes. Offer mustard and sugar-free ketchup at the table.
For the printable recipe and complete recipe details, visit the Easy Cheeseburger Pie Recipe on Primal Edge Health and check out The Carnivore Cookbook too!
Check out our full shopping list of approved carnivore foods as well as a sample meal plan.